Optics store of all the major brands on the market
SERVICES
Eshop design &
development
Web
hosting
Google ads
Social Media
PROJECT
The Koubios optics store counts many years of successful progress in the field and cooperation with all the famous brands on the market. In 2006, he pioneered by creating the first online optics shop in Greece. Our project was the reconstruction of the eshop based on modern data, the website hosting and its promotion through Google ads and Social Media. Our work and the strategy we followed had visible results, dramatically increasing both social network and website traffic, as well as sales.

Eshop design & development
Responsive
design
Δημιουργία
εύχρηστης φόρμας
παραγγελίας φακών
We developed a fully functional and easy-to-use website, which adapts properly to all screen types (PC, tablet, mobile), ensuring easy and efficient navigation.
The needs of the specific eshop required the creation of a custom form for the individual order of lenses, which was implemented by the developers of our team. On the product page of a lens, an easy-to-use form was created with the possibility of selecting lenses, with separate criteria for each eye and direct addition to the cart-checkout.
High speed
Website
hosting
ERP program
We significantly improved the response speed of the eshop. The website hosting on our company's high-performance servers contributed to this. Implemented the connection with ERP program for the live update of warehouse and products.
Product
management
One click
checkout
Connection with banks
Training
We have created the appropriate filters for the easy and quick search of the products and a one click – checkout, to which the user is taken directly in a single step.
We have added all the products and make sure they are automatically updated.
We implemented the secure connection with the banks, with the transport companies and with skroutz for the safe and fast completion of the orders. We properly trained the client for the effective management of his eshop.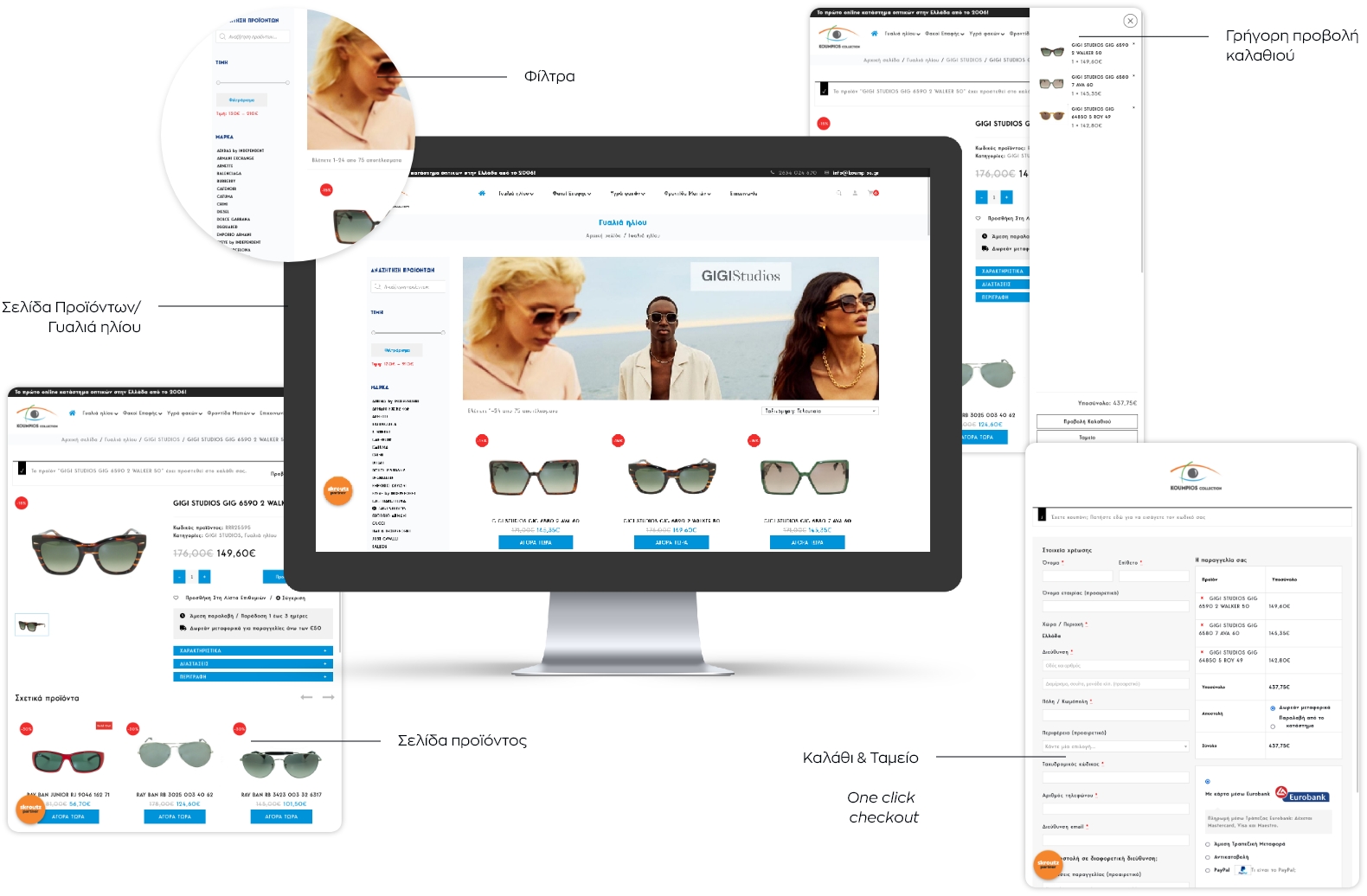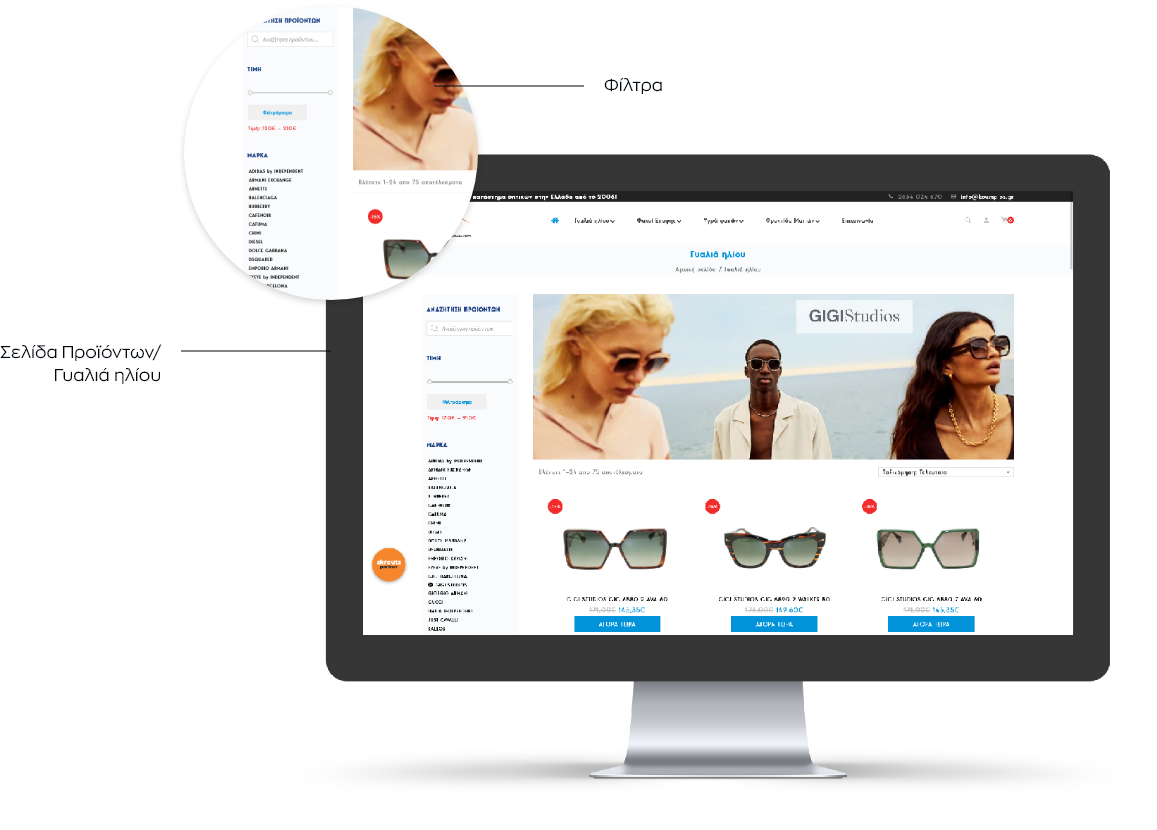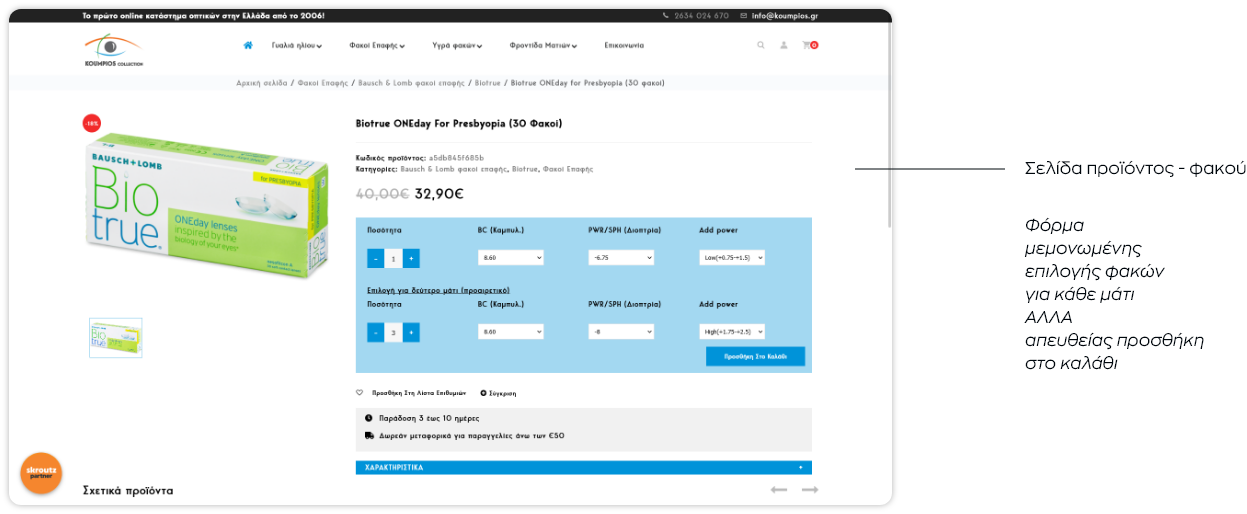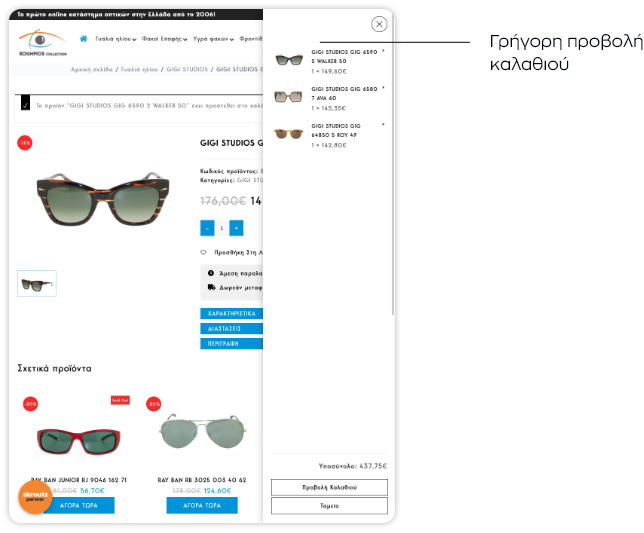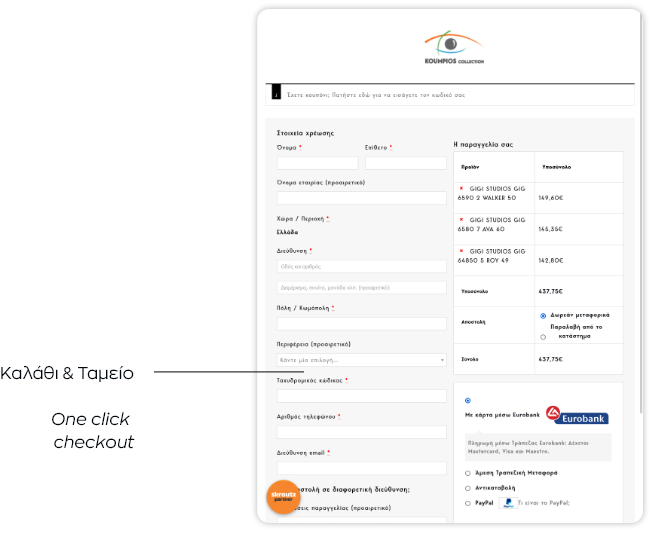 Email marketing
automations
A connection with our platform emailsystem was made for the planning and mass sending of emails – newsletters to a large number of contacts, immediately and with a uniform aesthetic effect, strengthening the email marketing campaign.
Advertising
campaigns through
Google ads &
Social Media
We achieved an increase in traffic on social networks and an increase in sales on the website, with targeted advertising campaigns on Facebook and Instagram. We continued to promote with Google Ads until we reached the percentages we were aiming for. A good advertising strategy would not perform to its maximum if it was not accompanied by targeted texts, smart hashtags, suitable shortlinks and graphic editing that our team took care of.