Studio for professional photography and conducting seminars
SERVICES
Website
development
PROJECT
Photonic studio is a fully equipped, creative studio that works both for professional photography [portraits, eshop advertising, fashion], as well as for conducting training seminars, art, organization of exhibitions. We were assigned the construction of the website in a creative style, following the visual profile of the studio, but also in a way that facilitates the user's search for seminars, services, etc., as it combines eshop elements.
Website
development
Responsive design
We designed a simple website to emphasize the studio's rich and impressive photographic material. We used the orange color of the logo in some places where we wanted to arouse the user's interest.
Our expert WordPress developers developed a fully functional website, combining eshop features and high response speed (despite using video on the home page), ensuring the pleasant navigation of the user from any device he chooses to connect.
Email marketing
automations
Photonic studio trusted our platform emailsystem for the design and mass email – newsletter sending to a large number of contacts, ensuring her an aesthetically perfect result, fast shipping, minimizing the risk of them going to spam and ability to monitor the progress of the email marketing campaign through detailed statistics.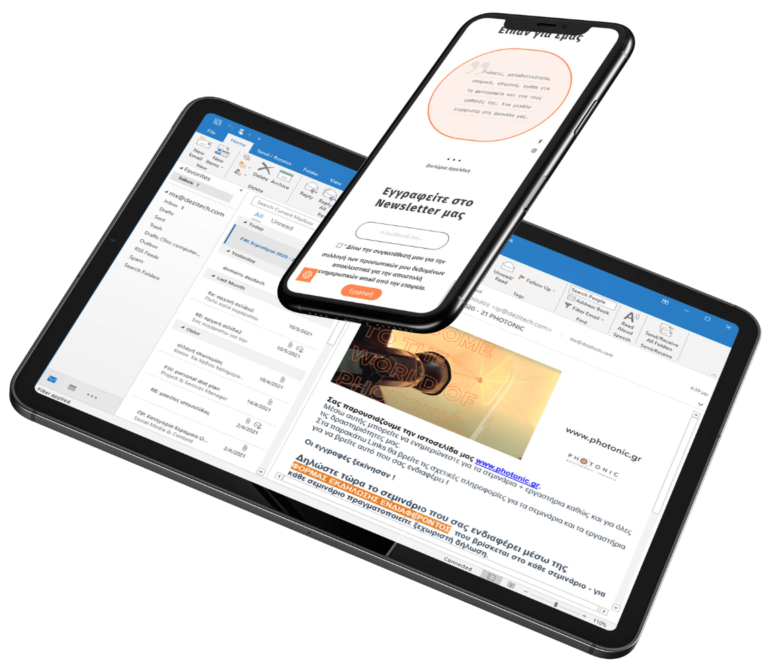 Integration
eshop details
in a smart way
We have presented the participation packages to the various seminars and workshops in a way that answers the user's questions and encourages him to show interest. We have developed easy-to-use and short expressions of interest forms, to which the user is guided with a single choice.